The container has an extended canopy over the entrances with a length of 1.30 m /total length of the container with canopies 8,600 mm/.
The fitted refrigerated doors are 900 mm. wide. and are fitted with security locks.
The container is equipped with refrigeration equipment and an air-conditioning unit powered by 230 VAC.
The butchery has the following rooms,
1) in the clean area:
• raw material reception cold room /room 5.15 m²/,
• cutting room /space 7.85 m²/,
• cold room /volume 1.95 m²/,
• dispensing buffer /vol. 3,10 m²/,
• clean cloakroom /over 1.45 m²/,
2) in the dirty area:
• dirty cloakroom /area 1.60 m²/,
• corridor /area 2.85 m²/,
• hygiene and sanitation room of 1.50 m².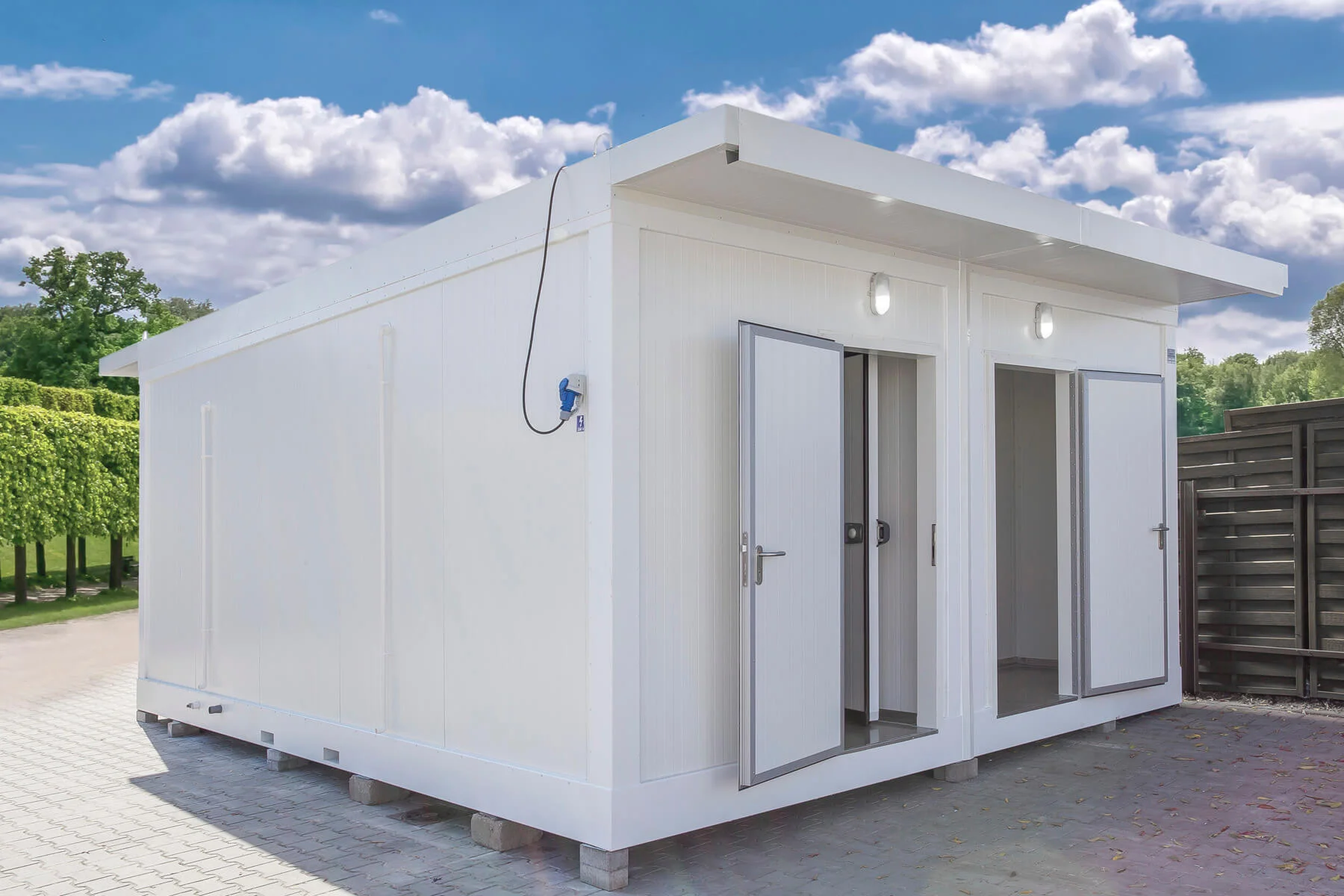 Equipment:
• CHIGO air conditioner controlled by remote control,
• refrigerating units 2 pcs.
• washbasins made of acid-proof sheet 3 pcs,
• butcher's table with a shelf made of acid-proof sheet
200 x 90 cm,
• exchangeable top made of plastic 200 x 40 cm,
• mantle made of acid-resistant sheet mounted on the wall in the cutting room, dimensions 514 x 124 cm.
• hanging stainless steel shelf 76 x 37 cm in the dispensing buffer room,
• first-aid kit
• toilet bowl,
• an electric rope hoist with a load capacity of up to 500 kg installed above the entrance to the raw material reception area,
• electrical and lighting installation laid in installed protective trays inside the cold store,
• electronic controller for programming temperature settings from +10° C to – 5° C
• electrical switchgear with electric overload protection modules 2 pcs.
• set of keys for both doors (2x)
• electronic energy consumption meter
• rail /roller/ for hanging hooks,
• set of hooks 5 pcs.
Specification:
| | |
| --- | --- |
| Dimensions [mm] | External |
| Length [L] | 6000 |
| Width [W] | 5000 |
| Height [H] | 2800 |
Copyright 2022 Game Cooling System Ltd